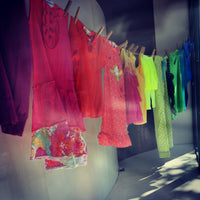 the snug story - we're online!
Did you know Snug has been part of the community for over 30 years. I'd say we've seen it all but I guess we haven't. It's a challenge that will bring some modifications to the way we do business in the future.
The Danforth local community is all about the relationships we've built over the years. From our customers, neighbours and suppliers, we respect you, we miss you and we will be here for your needs.
Moving forward, we're launching this new online store to be much like the physical store with specially curated beautiful things. Bear with us as we navigate this brave new world.
This is a terrific store to buy good quality clothes that look great after many washes. I don't understand the other comments about the owners of the shop. I have been here many times and they are extremely helpful and really nice. They have clothes that kids like - stylish comfortable and good quality! I have recommended this store to many people and they all love it!

Wendy B.
If you are looking for a summer hat for kids, this has been the best store - so many designs, variety of sizes, great quality worth the price and made in Canada. The store clarks are always helpful and friendly. Love this store.

Eri M.
This is a darling shop that has been here for years. It is a little gem run by very nice ladies who care a lot about people. I have bought memorable clothes there for decades. I never miss going to buy pyjamas for my son's girlfriend every Christmas.

Katherine J.