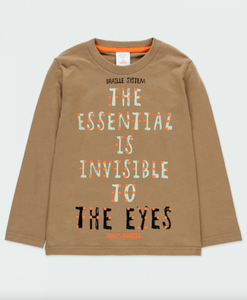 'The essential is invisible to the eyes'. Learn about Louis Braille inventing a system for reading and writing for the vision impaired. 
Boys' T-shirt in plain knitted fabric in olive colour. The neck seam binding is in orange. The decoration features a large print of letters with embossed dots that can be read in braille and a label with brand detail. Available from size 4 years to 14 years.
Actual raised braille dots on this awesome tee for you to explore.
100% Cotton. Olive.